Middle Eastern Woodworking Class
This section is in response to a call for instructors for a House Wild Rose Middle Eastern workshop. I will be delving in to the sawdust making arts of Persia in response. Currently all I have is the bibliography below, provided by Mistress Maysun as a starting point.
Bibliography
Timur and the Princely Vision -- illustrations
Renaisance of Islam: Art of the Mamluks
Art of the Persian Courts, Abolala Soudavar Rizzoli, 1992
Persian Painting
Arab and Persian Painting in the Fogg Museum, Marianna Shreve Simpson, 1980
Art and Archetecture of Islam 650-1250, Richard Ettinghausen and Oleg Graber
The Arts of Islam: Masterpieces of the Metropolitan Museum of Art, 1982
Islamic Art in the Metropolitan Museum of Art, Richard Ettinghausen, 1972
Arab Painting, Richard Ettinghausen, 1962
Books Available from UT Library - This is a list of books on Islamic Art available at the UT Library.
An outline of Islamic Art shown at the Topkapi Museum, Turkey.
Persian painting to illustrate "Shah-namah" (or "The Epic of Kings") by Ferdawsi. Painted by the Shiraz School, 14th Century. Topkapi collection. From http://www.sfusd.k12.ca.us/schwww/sch618/Art/Art4.html

Dioscrorides and a pupil
De Materia Medica of Dioscorides.
by Yusuf al Mawsili
Mosul, Dec. 1228. folio 2b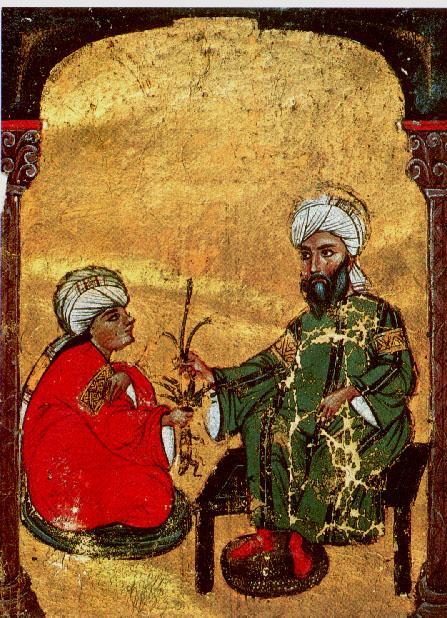 Bahram Gur in the Green Pavilion
Khamsa.
Tabriz, 1481.
Hazine 762, folio 180b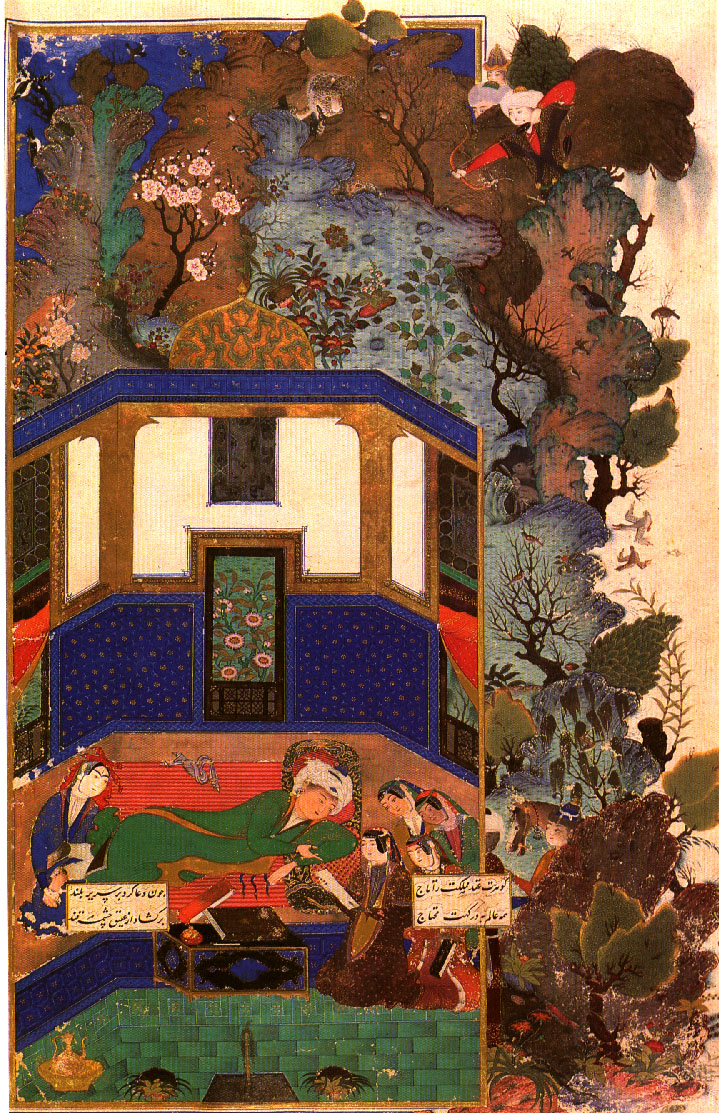 Iskandar and Nushabeh in the Palace
"Khamsa", Nezami
Herat School
15th Century
http://www.artarena.force9.co.uk/herat.htm#top
E-mail: mcnutt -at- pobox.com